[English version below]
Pubblicata a Giugno la Relazione sui Diritti Fondamentali 2018 – Agenzia dell'Unione Europea per i diritti fondamentali (FRA)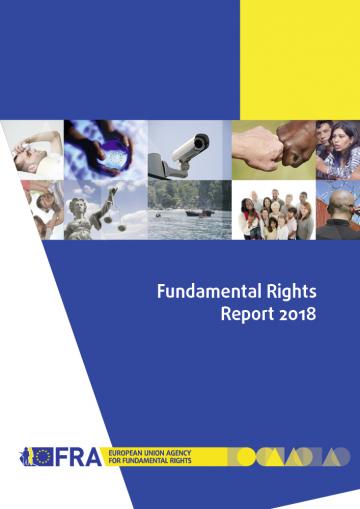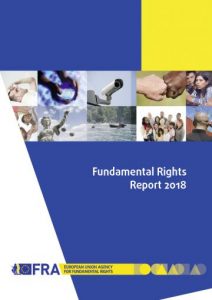 L'Agenzia Europea per i Diritti Fondamentali fotografa la situazione relativa all'applicazione dei diritti in Europea per l'anno 2017, sottolineando i risultati ottenuti ed i settori che presentano maggiori criticità e preoccupazioni. I diritti umani sono attualmente ancora troppo spesso oltraggiati, calpestati, non rispettati, a causa di diffusi fenomeni di discriminazione e molestie. Malgrado il numero crescente di accuse di maltrattamenti, raramente vengono intrapresi procedimenti penali – sia per la riluttanza delle vittime (terrorizzate) a sporgere denuncia sia per l'insufficienza di prove – e, dunque, difficilmente si emettono condanne. Questa situazione porta alla sistematica violazione dei diritti che sono inclusi nella Carta Europea sui Diritti Fondamentali, come il diritto alla libertà (violato dal trattamento spesso illegittimo e arbitrario dei migranti) ed il diritto alla non discriminazione (violato dalle restrizioni imposte a donne e minoranze sociali sulla base della etnia, religione e cultura). I diritti sociali dei bambini e degli adolescenti alla protezione dalla povertà e all'uguaglianza costituiscono ancora una sfida aperta e concreta in Europa, specialmente per la loro applicazione e riconoscimento ai minori migranti.
Il Report dettaglia anche una situazione difficile per quanto riguarda i diritti delle persone con disabilità: queste persone sono generalmente soggette a mancanza di accessibilità ai servizi urbani e questo impedisce per loro di avere una vita autonoma ed indipendente da aiuti esterni. Nonostante che l'Unione europea e gli Stati membri abbiano compiuto degli sforzi tesi a tradurre nella pratica i diritti denunciati nella Convenzione delle Nazioni Unite sui diritti delle persone con disabilità, la prassi soffre di mancanza di obiettivi chiari, bilanci adeguati e orientamenti operativi. La FRA auspica che la Direttiva sulla Parità di Trattamento, proposta nel 2008, trovi piena applicazione negli anni a venire; questo comporterebbe una protezione completa contro la discriminazione indipendentemente dal sesso, dall'etnia, dalla religione, dall'età, dall'orientamento sessuale e dalla disabilità.
La Relazione, nel dettaglio, fotografa la situazione nell'ambito di varie questioni:
Invecchiamento basato della popolazione
Carta dei diritti fondamentali dell'UE e relativo uso da parte degli Stati membri
Uguaglianza e non discriminazione
Razzismo, xenofobia e intolleranza ad essi associata
Integrazione dei rom
Politica di Asilo, visti, migrazione, frontiere e integrazione
Società dell'informazione, privacy e protezione dei dati
Diritti del bambino
Accesso alla giustizia compresi i diritti delle vittime di reato
Sviluppi nell'attuazione della Convenzione sui diritti delle persone con disabilità.
Per consultare nel dettaglio il testo completo del Report, cliccare sul seguente link.
---
Fundamental Rights Report 2018 (European Union Agency for Fundamental Rights – FRA) published in June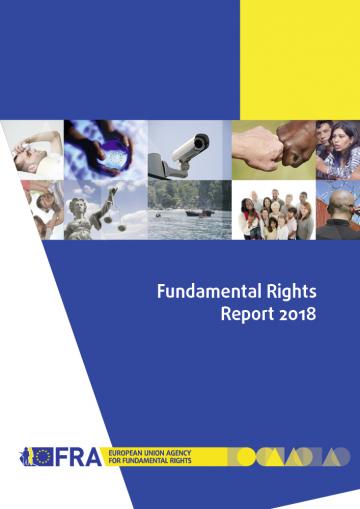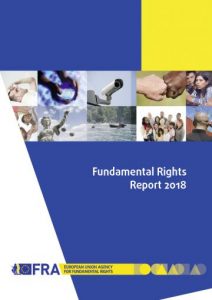 The European Agency for Fundamental Rights takes stock of the situation concerning the application of rights in Europe for the year 2017, underlining results and identifying sectors where there are weaknesses and concerns. Human rights are, nowadays, often flagrantly trampled and not respected by discriminatory phenomenon and harassments. Despite the growing number of cases of abuse and violence, very rarely penal proceedings are developed and rarely offenders are definitively convicted. This is generally caused by the reluctance of victims to report offences and by the lack of evidence to establish the truth. This situation brings to a systematic violation of rights included in the EU Charter of Fundamental Rights, such as the right of freedom (violated by the unlawful and arbitrary treatment of migrants) and the right to non-discrimination (violated by restrictions to women and minorities based on ethnicity, religion and culture). Social rights of children and adolescents for the protection from poverty and for the equality still remain an open and concrete challenge in Europe, specially for their application and recognition to migrant children.
The Report also states a difficult situation for disabled people: "these people are generally subject to the lack of accessibility to services usually available in cities and this prevents disabled people to have independent lives. Even though the European Union and the Member States are actually committed to put into practice the rights included in the United Nations Convention on the Rights of Persons with Disabilities, the current practice is full of defects: absence of clear and quantified objectives, inadequate funds allocation and lack of operational rules. FRA expects that the European Directive on Equal Treatment, proposed in 2008, finds concrete application in future years. This would guarantee complete protection against discrimination regardless sex, ethnicity, religion, sexual orientation and disabilities".
As far as the content of the FRA Report is concerned, this states the situation in different thematic fields:
Ageing
EU Charter of Fundamental Rights and its use by Member States
Equality and non-discrimination
Racism, xenophobia and related intolerance
Roma integration
Asylum, visas, migration, borders and integration
Information society, privacy and data protection
Rights of the child
Access to justice including the rights of crime victims
Developments in the implementation of the Convention on the Rights of Persons with Disabilities.
For more details, click here to read the report.